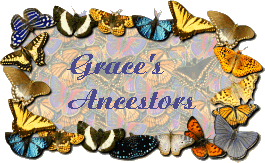 Est. April 15, 1998
You are vistor number [Hit Counter]
The main Surnames on these pages are: Bently, Boughner, Crisman, Day, Flint, English, O'Dell, Spencer, Stevenson, Thanford, Webster, Youngs. Specific names, dates, etc can be found on my Ancestors report page.


If you find a connection please let me know as I am always looking for more information about my family. I love gathering the stories about my ancestors.

You can sign my guestbook just to let me know what you think I could do better, or even to use it as a query board for the above Surnames.
I have gathered some information on the Surnames that I haven't been able to use and you can find it here.


Ancestor's of Phillip Russel O'Dell
Ancestor's of Mary Lillie Day